South Dakota State University
(Concert Poster by South Dakota State University Program Council)
Event and List Preview:
Kris performs for the students of South Dakota State University in Brookings, South Dakota. This is a small town (closest big city is Minneapolis, a four hour drive away), but it's dear to my heart because my great-grandfather Cecil used to own the department store there! I kid you not. There's a pub now in the same building named after him. One day I would seriously like to visit this place!
As far as the show goes, the list is not big. But
a student recently tweeted that it was almost sold out
, so expect a good crowd and a lot of late additions to the list. The
Facebook page for the event
has been popular as well, and I've added those I could find from there on Twitter to the list.
Updated: Here's the student newspaper article:
(Photo by @kheilig)
Also - just a bit of housekeeping news. I've been following how some other fandoms do their concert pages and have decided to start adding more info and pictures to each concert post. If I can do it while a show is going on, great; if not, will do it afterwards. I'd also like to archive stuff for our fandom, so if you have some great pictures, videos and/or mp3s from past Kris shows (especially the Out Alive Tour), I'd love to link them. So please send them my way (email
krinjalists@gmail.com
or tweet to @KrisAllenLists)
But back to South Dakota!
Show: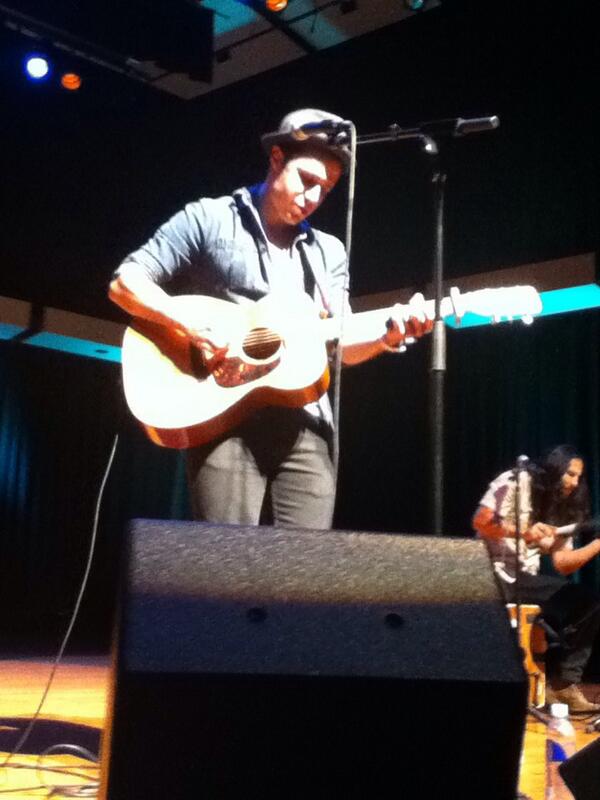 (Photo by @CaitlinMarieD)
Set List:
(Photo by @kheilig)
Better With You [
Vine
] [
Video
]
Alright With Me [
Video
]
Faith/We Are Young/Some Nights (Cover - George Michael/fun. mash-up) [
Video
]
The Vision of Love [
Video
]
Out Alive [
Video
]
Paul Simon [
Video
] [
Video
]
Leave You Alone [
Video
]
My Weakness/No Woman No Cry [
Video
]
Girl Pop Medley (Cover - We Found Love (Rhianna)/Firework (Katy Perry)/Just Dance (Lady Gaga) with a snippet of Say My Name (Destiny's Child)) [
Video
]
Monster [Video (not available)]
Rooftops/Blurred Lines (Original mashed up with Cover - Robin Thicke) -
PREMIERE
[
Video
- Don't Miss!] [
mp3
]
Live Like We're Dying [
Vine
] [
Video
]
You Got a Way!!! [
Video
]
Shut That Door [
Video
]
Review:
South Dakota Collegian
Tumblr Set List Post