April 5, 2014
The Franklin Theatre
Franklin, TN
8:00 PM CDT
Opening Act: Adam Hambrick

Show and List Preview:
Following his successful gig for charity in downtown Nashville on April 1, Kris and the band now play a full show in the Nashville suburb of Franklin, Tennessee. A few of Kris' Nashville friends have tweeted they are going (those that have are on the list), and his friend from Arkansas turned Nashville singer-songwriter, Adam Hambrick, is opening. The list is not big, but the show is
close to selling out
as of this writing, so I suspect they will come out of the woodwork, and it does have a few video-takers on it. :)
Pre-Show/Event Press and Publicity: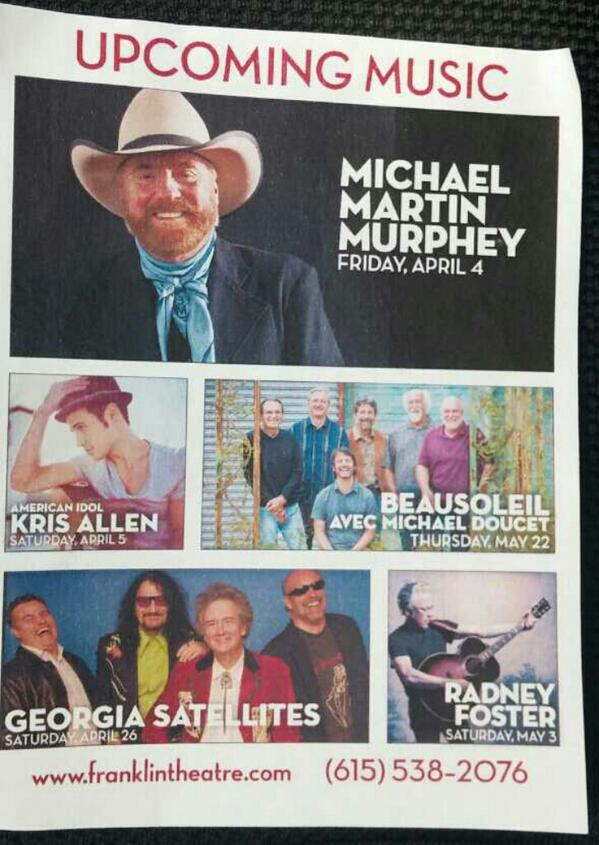 Photo of venue flyer by @ameeliu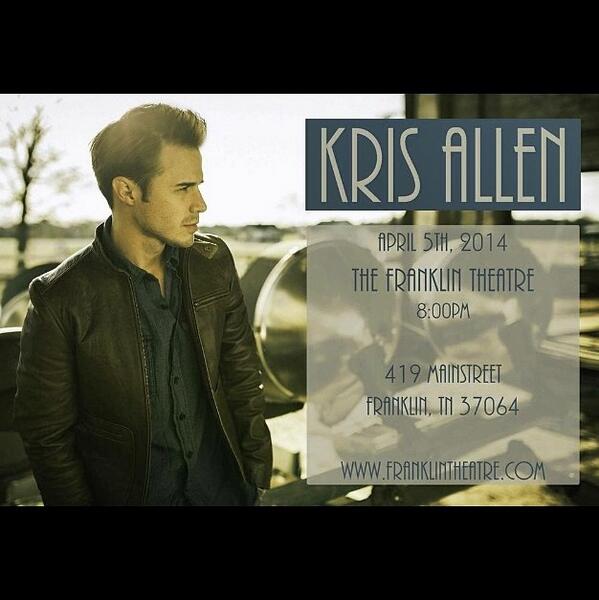 Photo tweeted by various KAB personnel
The Ticket:
Merch, Signage and Other Fun Stuff: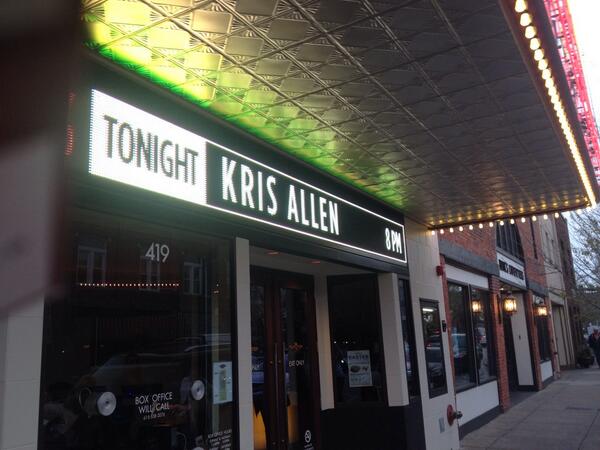 Photo by @ConcertJunkie19
The Show:
So far our list has spotted the following in the audience: David Cook, Matt Giraud, Andrew DeRoberts!!
Set List:
Paul Simon
Don't Set Me Free
Better With You
In Time
Alright With Me
Leave You Alone [Instagram]
Everybody Just Wants to Dance/I Want You Back (original/Cover - the Jackson 5ive) [Instagram]
It's Always You
Out Alive [Instagram]
Beautiful and Wild
Rooftops [Instagram]
Live Like We're Dying [Instagram]
Shut That Door
You Got a Way [Instagram]
End of the Show

After the Show: