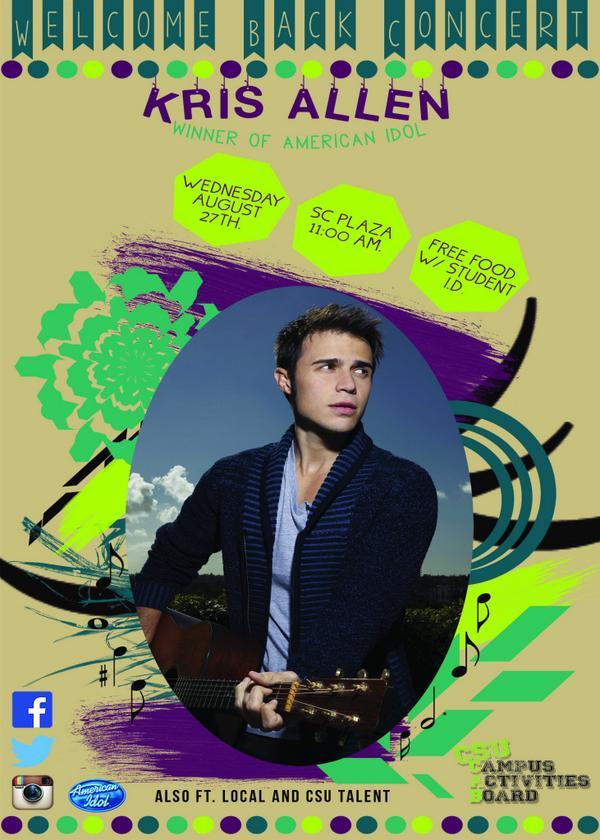 Photo by CSU Campus Activities Board



College Show
August 27, 2014


SC Plaza
Cleveland State University
Cleveland, OH
11 AM - 2 PM Eastern
(Kris maybe on at 12 per Degy but it might be later)
Opening Acts: Crystaly, F.R.E.$.H and Chase Smash
---
Show and List Preview:
Kris performs a lunchtime show for Cleveland State University students (free food with student ID!). Several students will open for him. My guess is that this will be pretty informal so if you're in Cleveland and you just happen to stroll onto that campus plaza.... As far as the list goes, Cleveland State kids seem to tweet a little more than Rockhurst University ones.
Unfortunately, this is during a workday and I may be very busy at the time of the show, so I may not be able to add any last minute flaily tweets to the list. Sorry.
Pre-Show/Event Press and Publicity:
Various campus twitters and the opening acts have tweeted a lot about the event.
The Ticket:
Photo by Cleveland State University

Soundcheck:
Young Love/Paul Simon [YouTube]
Come on Get Higher (Cover - Matt Nathanson)
The Show:
Photo by mc_mik3y

Set List:
Young Love/Paul Simon
Better With You [Vine]
Don't Set Me Free
Prove It To You
Chandelier (Cover - Sia)
Alright With Me (Sax)
In Time [YouTube]
Beautiful and Wild [YouTube]
Lost
Everybody Just Wants to Dance/I Want You Back (Original/Cover - The Jackson 5ive) [YouTube] [Instagram] [Instagram]
Monster/Rude (Original/Cover - MAGIC!) [YouTube]
Live Like We're Dying [Instagram]
The Wire (Cover - Haim) - PREMIERE
Shut That Door
End of the Show
After the Show: