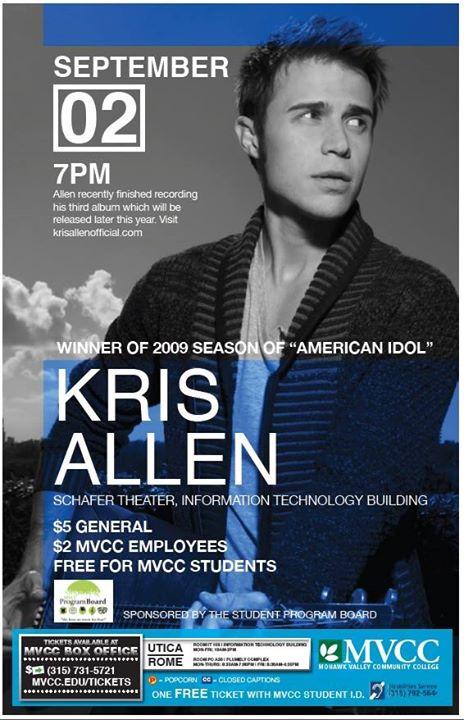 Photo by Mohawk Valley CC
Concert
September 2, 2014
Schaefer Theater
Mohawk Valley Community College
Utica, NY
7:00 PM EDT SHOW
7:50 PM EDT STREAM
Opening Act: Jeff LeBlanc
---
Show and List Preview:
Kris does a show tonight in Utica, NY at the theater of the local community college. Originally advertised as a college show (as you can see from the prices in the flyer), it's turned into a much bigger deal. Yahoo! Yahoo! Screen, which has been livestreaming a concert every night all summer,
chose this concert to livestream
! So we hope that the people of central New York State will turn out like their fellow citizens in New York City always do!
Pre-Show/Event Press and Publicity:
The Ticket:
If you are going in person:
Photo by @onerealfan - Thanks!
If you are not in the Utica area:
Merch, Signage and Other Fun Stuff!
Sign outside of theater - thanks @NawtQuiteRite

Soundcheck:

The Show:
Photo by @chelcimillar (she's one of the dancers)
Photo by @AvaParrago
Photo by @NawtQuiteRite

Set List:
Also:
Guitar and Sax Duet [Yahoo]
|
Complete
YouTube playlist of show
After the Show: