September 10, 2014
The Harvester
Rocky Mount, VA
8 PM Eastern
Opening Acts: Jillian Edwards
---
Show and List Preview:
Well Virginia fans have begged for a show since the
last one in January 2013
, and Virginia fans finally got one. If only it was in a large metropolitan area like Northern Virginia or Virginia Beach, home to some of Kris' biggest, most avid fans, we'd have some more folks on the list! But this show is in a small southwestern Virginia town near the Blue Ridge mountains. The closest big city (Roanoke) is a half hour away and the nearest big university, Virginia Tech, is about 75 minutes away.
Having said all that, the venue is new, looks cool and is all ages. And all of Virginia loves live music so those people who do go to the show will have a blast. (If you're going, please let me know so I can add you to the live twitter list.)
Pre-Show/Event Press and Publicity:
The Ticket:
This venue does not issue tickets. :/ Instead your name goes on a list. (I should approve but I'm a ticket collector so this makes me sad.)
The Show:
Set List: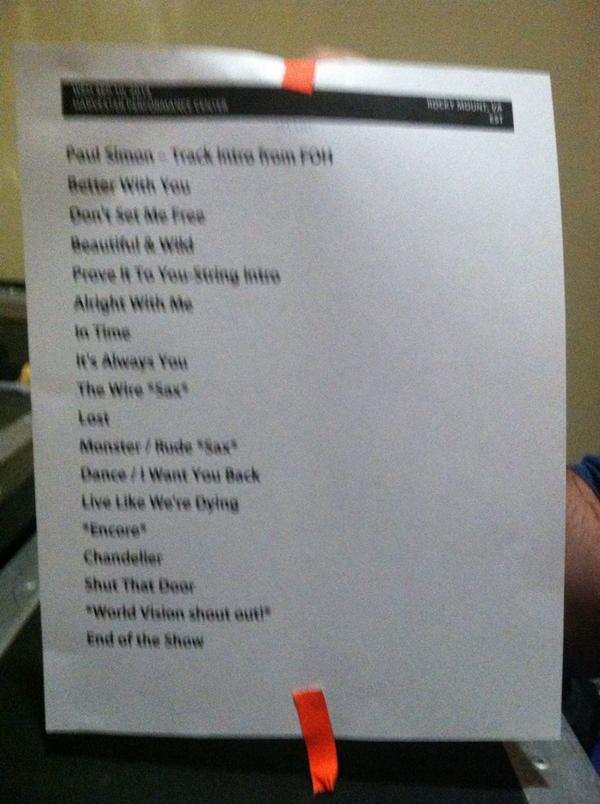 Photo by @DC_song


Paul Simon/Young Love
Better With You
Don't Set Me Free
Beautiful and Wild
Prove It To You
Alright With Me
In Time
It's Always You
The Wire (Cover - Haim)
Lost
Monster/Rude (Original/Cover - MAGIC! mash-up)
Everybody Just Wants to Dance/I Want You Back
Live Like We're Dying
Chandelier/Stay With Me (Cover - Sia/Sam Smith mash-up)
Shut That Door
End of the Show
See also: Kris Allen Set Lists post


Want to see Kris live? Here's his upcoming solo shows!
(Check my calendar below for full schedule; visit krisallenofficial.com/tour for tickets)






After the Show: