Logo via Musicians Corner
Concert
May 9, 2015
Centennial Park
Nashville, TN
Other Acts: Matt Wertz, Dave Barnes
Jason Eskridge, Viva Mexico


---
Show and List Preview:
This should be a good show! Kris joins some other excellent singer-songwriters in an acoustic, free concert that is part of an annual outdoor concert series in Nashville. According to its
website
, "In its initial five years, the Musicians Corner audience has substantially grown in size from 5,000 people in 2010 to over 50,000 in 2014." Nice! Let's hope for great weather and a great turnout. If you are in Nashville, this is free, outdoors, family-friendly and on a Saturday afternoon, so goooo!
For those of us watching the show via Twitter and this post, I am hoping Kris will perform the two new songs he debuted at
Tin Pan South's showcase
:
Waves
and the still yet-to-be-videoed-so-let's-get-on-that-Kris-fans
Belle Meade Gal.
Since Kris has taken a break from regular touring to work on writing songs for the next album, this performance seems like a perfect time to showcase some new original music!
Updated with set list, videos and media after the break...
Updated 5/15/2015
Pre-Show/Event Press and Publicity:
Merch, Signage and Other Fun Stuff: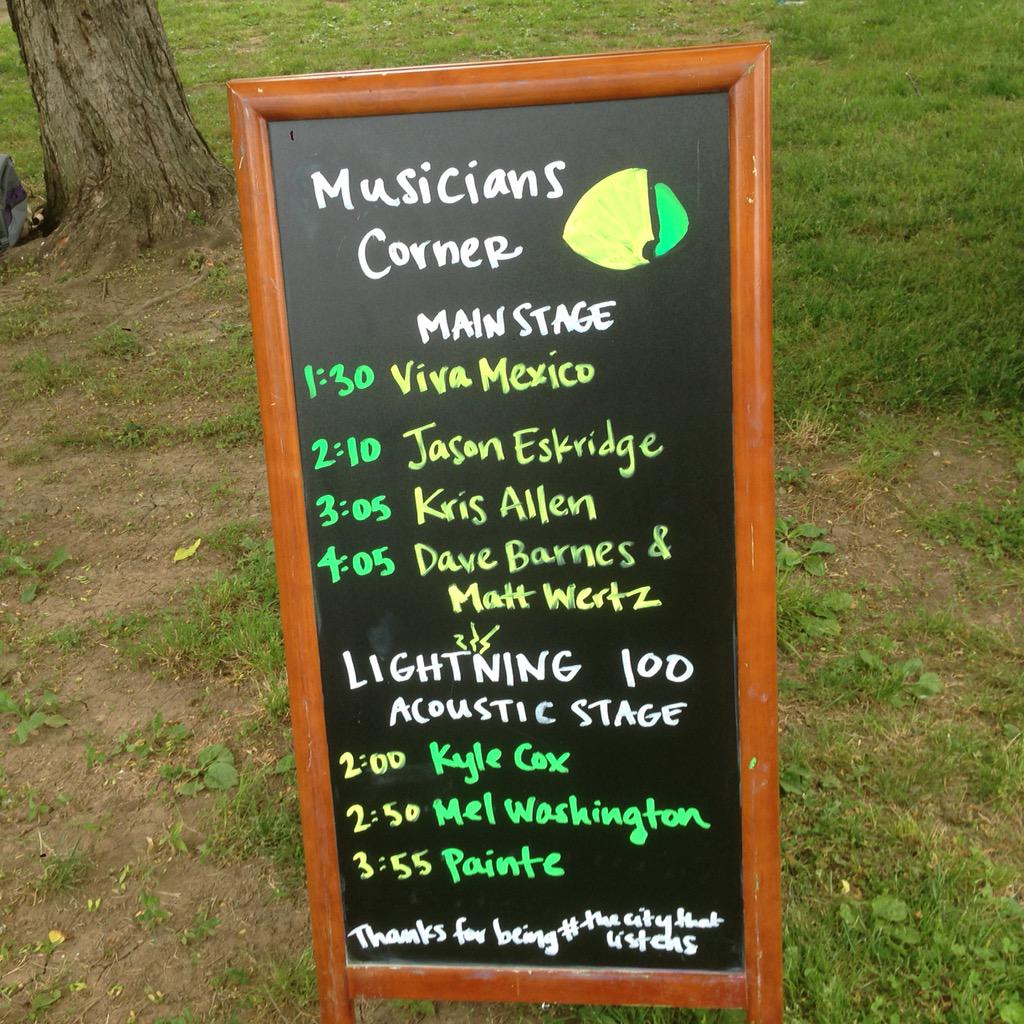 Photo by @MusCornerNash
The Show: Kris, Cale and Brad
Photo by tylerleaman on IG
Photo by kaitlindianne on IG
Media:
Kris' Set List: Thanks to @tmg84 for tweeting this!
Better With You [YouTube]
Beautiful and Wild
Chandelier/Take Me to Church/Stay With Me (Cover - Sia/Hozier/Sam Smith mash-up) [Vine]
Alright With Me/Sugar (Original/Cover- Maroon5 mash-up) [YouTube - partial]
Monster [Twitter video]
Everybody Just Wants to Dance/I Want You Back (Original/Jackson 5ive mash-up) [Instagram of Oliver dancing to it]
Live Like We're Dying