Screengrab by Kris Allen Lists
Opening Act: High Tolerance
---
Show and List Preview:
Kris continues his winter break in Florida with a stop at Meyer Ampitheater in West Palm Beach, FL for the city's Sunday on the Waterfront series. This free event sounds like a blast! And we have some great fans on the list, which is nice!
Updated 2/17/2015: Great show and fantastic list! Set list, tons of awesome videos and photos too after the break...
Pre-Show/Event Press and Publicity:
Tweets and Facebook posts by the City of West Palm Beach
The Ticket: No ticket for this one - it's free! If you're nearby, GO!

Merch, Signage and Other Fun Stuff:
Setting up for the show!
Photo by Bradley Ackerman on Instagram
Photo by faith_9300 via Instagram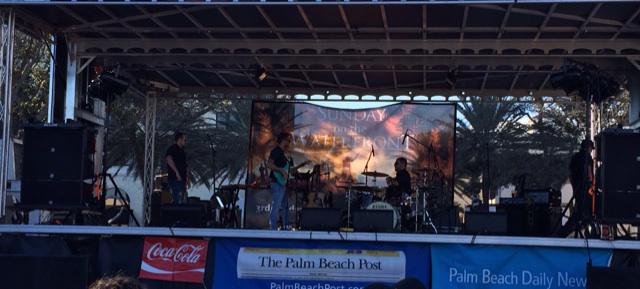 Photo by @ShookbyCook
The Show: Full Band; Plugged In
Photo by @Yendiders
Photo by @Yendiders
Photo by @catalm
Photo by @bsmize on Instagram
Set List:
Photo by @Yendiders with help from @catalm
After the Show: