Promo Flyer by Team Kris
Solo Show
October 21, 2014
The Southern Cafe and Music Hall
Charlottesville, VA
Doors 7:30 PM EDT
Show 8 PM EDT
Opening Act: Andy Suzuki and the Method
All ages
---
Show and List Preview:
Oh how I wish I could go to this show as I graduated from UVA and adore Charlottesville. You've heard me rhapsodize about Virginia (I'm a native) and its love of great indie music before. I just took a road trip through rural parts of Virginia, listening to some fantastic college radio on the way, and it firmly reinforced my view that this is a state Kris really should build on his goodwill in. His music is a perfect fit.
Unfortunately I'm a grown-up now with a job and kids who have things going on, so no workday road trip to my beloved C-ville for me for this show. :( But I shall be following one of my favorite Kris fans, @MerryMary05 who is making the journey west on I-64 for this show! Yes, she's on the list.
It's also worth mentioning that this is a rare solo show for this Fall, and as such it will give us a longer set. Plus I've heard this venue is fantastic. I love that they have linked Horizons' Spotify stream and Kris' updated bio. Looking forward to following this one! (Admin. note - I will be getting home from all the said things going on late this night, so may not add people until showtime.)
Updated: Full set list, videos, two radio interviews and mp3 after the jump!
Pre-Show/Event Press and Publicity:
The flyer shown above plus tweets by Team Kris East, the local tourist bureau, the venue and the opening act
This nice email from the promoter (yes, I subscribe to C-ville venue emails because I'm always looking for an excuse to get back there)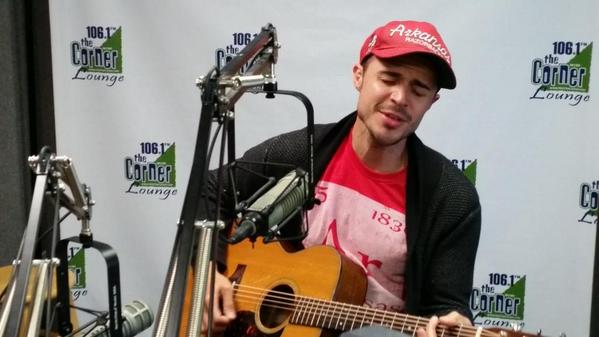 Photo by @WCNR the Corner
Kris performed In Time and Beautiful and Wild
The Ticket:
Photo by @MerryMary05

Soundcheck:
Set List:
Photo by @MerryMary05
Meet and Greet

Show:
Paul Simon/Young Love
Better With You
Beautiful and Wild [YouTube]
Don't Set Me Free [YouTube]
Prove It To You [YouTube]
Alright With Me [YouTube with In Time]
Monster/Rude (Original/Cover - MAGIC!) [YouTube]
It's Always You [YouTube]
Everybody Just Wants to Dance/I Want You Back (Original/Cover - Jackson 5ive mash-up) [YouTube - partial]
Live Like We're Dying [YouTube]
You Got a Way
Shut That Door
End of the Show [YouTube]
Click here for
MerryMary05's YouTube playlist

After the Show: